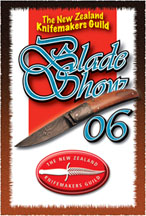 About Us
My name is Marcos Doran, my family and I live in Auckland, New Zealand (NZ). As a boy growing up I had always had an interest in knives, ever since my father gave my brother and I our first pocket knife.

For a time all my pocket money was saved up for a chance to visit local sports stores in hope of adding another knife to my slowly growing collection. I would also modify old kitchen knives to make double edged daggers, cut out throwing stars from sheet metal or spent hours sharpening and re-sharpening my collection of knives.

I first realized I wasn't alone in my lust for things sharp and shiny when my boss at the time brought into work an old copy of a "Knife Annual". I was blown away by the variety of styles and designs of knives and swords. I borrowed the book for a while to absorb and sketch all the different knives that took my fancy, but at the time the process of getting from paper to reality seemed a little over whelming. So on paper they stayed.

Five years or so later while lighting the fire at home I came across an article about a local knife maker Norman Sandow who was to exhibit at the first Auckland Knife Show (2001). With family in tow along I went. I was spell bound! As my wife dragged me out I declared that I was going to give knife making a go.

I bought some books off the Internet (How To Make Knives by R.W.Barney & R.W.Loveless and Wayne Goddard's $50 Knife Shop). After some experimental knife making I built myself a beltgrinder and haven't looked back since.

Five years since that first show I am posting my web site and about to participate in my first show.

As with most knife makers I am constantly striving to improve the fits and finishes of my knives while also hoping to develop my own unique style.